Taipei Robot Man 2.0: Infodemic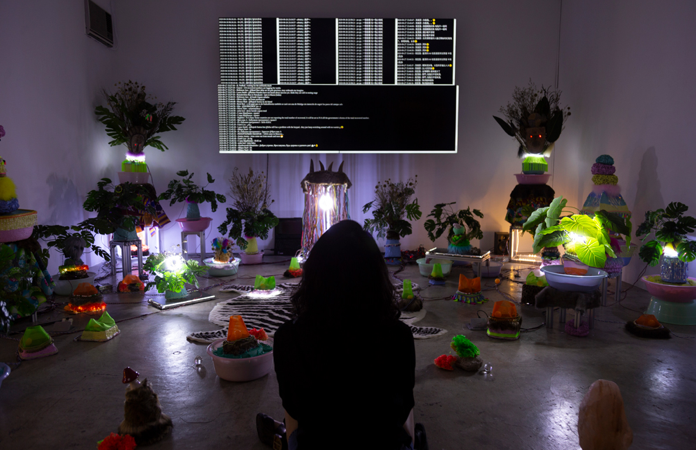 Taipei Robot Man 2.0: Infodemic
台北機電人2.0:訊息瘟疫 
TingTong Chang張碩尹、HsienYu Cheng鄭先喻、廖銘和(Dino)
"Taipei Robot Man 2.0: Infodemic" was a co-project created by Ting-Tong Chang, Hsien-Yu Cheng and Ming-ho Liao (Dino). They used digital technology to recycle "garbage information", such as internet trolls' posts and fake news, and turned them into material for driving a mechanical installation and noise performance. At both the Cube Project Space and Longquan market, the artists held a series of exhibition and performance events in order to explore how information is produced, processed, manufactured, exchanged, circulated and spread during this pandemic era.
"Taipei Robot Man 2.0: Infodemic" originated from Hsien-yu Cheng's internet installation "Assimilator", which captured "garbage information" in real-time, such as internet trolls' posts and fake news, recycled and transcoded them, and then turned them into bunches of information that connected the Cube Project Space and Longquan market.
Longquan market is located near Taipower Building Station, a traditional market, which is open in the mornings, while this project took place in the evening, after the market had closed, for the week's exhibition. These "garbage information"-driven artists collaborated with the Laboratory of Fragrance and Perfume (LFP) to come up with the "Smell Installation", from which various tailored spice would be emitted along with fluctuating signals. Also combining light, sound and images, the artwork transformed the market into a large-scale on-site installation. Through the olfactory, the auditory and the visual, its aim was to change the visitors' spatial sensations.
In the exhibition at the Cube Project Space, "garbage information"was transformed into music, while also driving Ting-tong Chang's mechanic installation, which was created from electronic waste andthe fresh vegetables and fruit of the market itself. These"instruments" collided with each other, conducting electricity and creating the sound field. This sound field was sometimes an ensemble interspersed with Mingho Liao's, aka Dino, noise performance. Together, they created a disharmonious sound field among signals, waste, and food.
Photo: Chun Teng Chu Collaboration: Hsien Yu cheng and Ming-ho Liao (Dino)
《台北機電人2.0:訊息瘟疫》為張碩尹、鄭先喻、廖銘和(Dino)的合作計劃,其利用數位科技將網路酸文與假資訊等「垃圾訊息」回收再利用,成為驅動機械裝置與噪音表演的創作材料,並在立方計劃空間與龍泉市場舉行系列展覽與表演活動,探討在疫情時代下資訊如何被製造、加工、生產、交換、循環與傳播。
自武漢市華南海鮮市場到世界各地,菜市場(濕市場)為全球疫情路徑圖的起始點,在這個生鮮與腐敗、生命與死亡、人與動物共存的平台上,病毒、寄生蟲、細菌得以在血液與油脂之間跨物種傳播。濕市場也是網際網路的隱喻,在數位科技架構的虛擬空間中,意義、語言、文字、圖像如同病毒,傳染力強並且傳播快速的訊息瘟疫(infodemic)形塑了當代政治。從被刻意扭曲資訊所影響的2016年英國公投、遭網軍攻擊的法國2017年大選、到台海兩岸角力的資訊戰場,大量生產的偏頗訊息構築了一真假難解的後真實世界。而在疫情期間所流傳的5G傳病論、注射漂白水殺毒論、疫苗陰謀論,假訊息更構成大眾公共衛生威脅。
《台北機電人2.0:訊息瘟疫》以鄭先喻的網路裝置《同化者》為起始點,其即時擷取網路酸文與假資訊等「垃圾訊息」,將其回收轉碼,成為連結立方計劃空間與龍泉市場等兩個場域的資訊串。
龍泉市場位於台電大樓站,為一晨間營業的傳統市場。藝術家利用其夜間休業時間,舉行為期一週的展覽。「垃圾訊息」驅動藝術家與LFP香料香水實驗室共同製作的「氣味裝置」,其將跟隨著訊號的波動釋放多種特製香料,並結合燈光、聲音與影像,將市場轉化為一大型現地裝置,並透過嗅覺、聽覺與視覺改變觀者的空間感知。
在立方計劃空間的展覽中,「垃圾訊息」則成為轉化為樂符,驅動張碩尹以電子廢料與菜市場生鮮蔬果所製作的機械裝置。這些「樂器」相互碰撞,彼此導電,創造音場,並和廖銘和(Dino)的噪音表演時而合奏、時而干擾,創造一訊號、廢料、食物之間的不協調音場。
攝影:朱駿騰 合作:鄭先喻、廖銘和(Dino)